CATEGORIES
Latest news
Contact us
ADD: No.4 Building , No.1500, Kongjiang Road,Yangpu District,200093,Shanghai,China Skype: motor.machinery
TEL: 86-21-58992293
FAX: 86-21-58992292
E-mail: sales@motor-machinery.com

> Motor machinery for Stator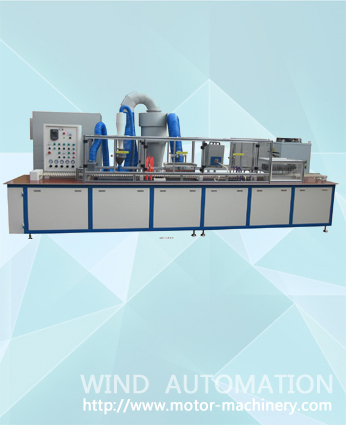 Automotive No Heating Armature Coating Machine For Mini Rotor Insulating Coating WIND-JF-98G
Product description: Armature resin powder coating machine has full coverage auto motor such as wiper motor, rolling window motor, oil pump motor, a table, a chair adjusting motor, EPS motor, ESP motor, starter motor, et
PRODUCT INTRODUCTION
Electrostatic powder coating machine WIND-JF

1. Friend to environment, have two stage recycling system for electrostatic resin powder
2. Widely used in mass production of wiper motor,rolling window motor, oil pump motor, a table, a chair adjusting motor, EPS motor, ESP motor, starter motor, kinds of car motor, power tools and other small size dc motor
Induction heater which is usually used in fully automatic electrostatic powder coating machine WIND-JF series for armature mass production,

Induction heater deoil --- cooling --- Powder coating --- Outside powder Remover --- Induction heater curing Please refer to video,https://vimeo.com/144614641
Main feature
WIND-JF-98G resin coating machine is the most technical advanced product in electrostatic coating field, which is widely used in mini rotor insulating coating, such like automotive, motorcycle, toy and small electromotor of household appliances.
This series coating machine has full coverage auto motor such as wiper motor, rolling window motor, oil pump motor, a table, a chair adjusting motor, EPS motor, ESP motor, starter motor, etc.), motorcycle motor, electric motor, electric tools, rotary variable control motor, a mechanical servo motor and DC motor.

Work process
1. Manually assembly the rotor to fixture and put onto the screw rod
2. High frequency de-oiling
3. Strong air cooling
4. Manually carry the rotor to the screw rod of powder coating machine.
5. Electrostatic powder coating
6. Cleaning the fixture and rotors
7. High frequency curing
8. Strong air cooling
9. Manually unloading the rotor
Machine specification
1) De-oiling machine (drying and cooling machine)
2) Powder coating machine body
3) Powder heating part...
4) Powder recycling system

Parameter
A) Rotors transmission speed: 0.1-1.5m/min
B) Productivity as per table in I
C) Curing mode high frequency curing on line
D) Coating thickness adjust within 0.15-0.5mm (subject to the powder property)
A) one type rotor 10 pieces fixture supplied with machine for commission.
B) Energy
1) Power: 60KW 380V 50Hz
2) Compressed air: 1.5m3/min, 0.6MPa (after purification handling of freezing and drying)
3) Normal tap water
Contact: emily@motor-machinery.com
Skype: motor.machinery
Mobile: +86-18067425780
Website: http://www.motor-machinery.com; http://www.coilswinding.com