CATEGORIES
Latest news
Contact us
ADD: No.4 Building , No.1500, Kongjiang Road,Yangpu District,200093,Shanghai,China Skype: motor.machinery
TEL: 86-21-58992293
FAX: 86-21-58992292
E-mail: sales@motor-machinery.com

> Motor machinery for Armature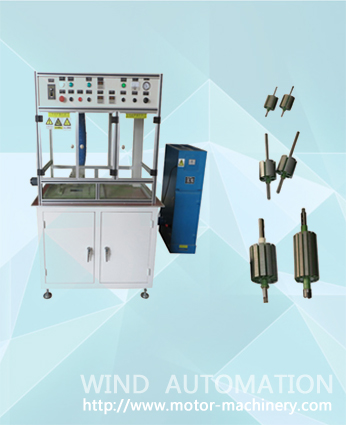 Armature rotor electrostatic powder coating machine WIND-APC-L for R&D laboratory use
Product description: electrostatic epoxy resin powder coating machine
PRODUCT INTRODUCTION
Armature rotor electrostatic epoxy resin powder coating machine WIND-APC-L
for kinds of armature prototype laboratory experiment use
The machine is suitable for armature rotors within
OD 60mm, stack height 80mm, shaft size 12mm
Any electrostatic epoxy resin which can be used for electrostatic fluid bed is suitable,
Machine don't have special requirement for electrostatic epoxy resin
Electrostatic powder coating machine Operation process
https://www.youtube.com/watch?v=L7G5w9KhzjI
1. Operator assemble fixture for armature and load it on to driving connection rod
2. Press the Start button, armature begin to rotate,
Electrostatic open and epoxy resin powder become fluid at same time ,
The resin mist begin to fly to armature stack and stick to surface
3. After coating, electrostatic fluidization stop,
The scraping device stretch out and begin to scrap and remove the resin on armature OD
4. After powder coating, fetch out the armature and put the armature in oven
(Oven is not included in quotation ,
Usually 180~200℃ ,30minutes, per powder characteristic)
Configuration of the electrostatic epoxy resin machine WIND-APC-L
1.Electrostatic high voltage generator 1pc
2.Fluid container (200mm*200mm) 1pc
3. Resign coating container 1pc
4. Motor for speed adjustment 1set
5.Automatic scraping resin device 1set
6.Resin recycling device 1set
Production ability 15~30pcs/hour (According to different armatures)
Dimension :L1200*W710*H1618mm(Space required L1500*W1500mm*H2000mm)
Gross Weight:420KGS
Machine production lead time: 30days
Question and answers:
1) Question:
Does the equipment use electrostatic coating or fluid bed coating ?
Where is the device that electrostatically charges the powder.
Which is the voltage range that the powder can be electrostatically charged ?
Answer:
Yes, Of course the equipment WIND-APC-L armature electrostatic powder coating machine
use
electostatic coating,
There is Electrostatic high voltage generator in device,
Please refer to layout of WIND-APC-L from front side
in PDF
,
2) Question:
Can you confirm that all individual parts of the equipment are grounded ?
Do you have Atex certification ?
Answer:
Yes, all individual parts of equipment are grounded
We don't have Atex certification,
The compressed air inlet controlled by pressure regulating valve control and the pressure is safe 0.6Mpa,



3) Question:
For a proper process the armature must be heated with induction heater: best option is to heat up from room temperature till 230°C in 30 s. and then stay at 230°C for 60 s.
They are expertize in this resin and its process and they say that using an oven is not correct because in that case heating is too much slow and the resin will be cured before to arrive to melting temperature and therefore without having a proper cross-linking.
Instead of it, induction heating allow to reach 230°C in very fast time, the resin can melt and afterword can cure (60 s. at 230°C is enough) with the right cross-linking.
Answer:
Your resin is to heat up from room temperature till 230°C in 30 s. and then stay at 230°C for 60 s.
It is quick-drying resin,

In file WIND-APC-L we mentioned 180~200℃, 30 mintues is 3M powder which is easily available in China local market,
The 3M resin used in electrostatic powder coating machine WIND-APC-L
by local users are 3M266,3M263,3M5555-22G,
Because 3M263,3M266,3M 5555-22G are easy to get and available in China market and they are suitable for electrostatic coating
Contact: emily@motor-machinery.com
Skype: motor.machinery
Mobile: +86-18067425780
Website: http://www.motor-machinery.com; http://www.coilswinding.com