CATEGORIES
Latest news
Contact us
ADD: No.4 Building , No.1500, Kongjiang Road,Yangpu District,200093,Shanghai,China Skype: motor.machinery
TEL: 86-21-58992293
FAX: 86-21-58992292
E-mail: sales@motor-machinery.com

> AC motor stator machinery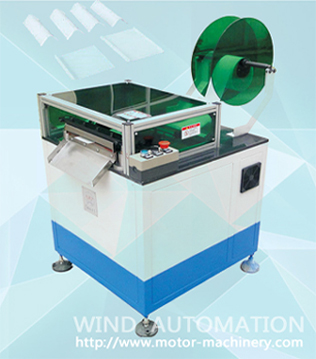 Slot cell forming machine WIND-150-IF
Product description: Form and cut the insulation paper for induction motor cell insulation such as pump,ceiling fan, compressor,hood motors,brushless permanent magnet motors. Machine can cut and bend insulation for the m
PRODUCT INTRODUCTION
WIND-150-IF insulation paper forming creasing cuffing and cutting machine form and cut the insulation paper
for induction motor slot cell insulation such as pump,ceiling fan, compressor,hood motors
Machine can cut and bend insulation for the motors and also cutting insulation without bending for other type of slotless motor

Machine enable unskilled or semi-skilled operators to achieve consistent quality without specialised tooling and operator intervention,
Parameter:
Feeding length 10~100mm
Cutting width <150mm
Cutting thickness < 0.35mm
Edge folded width 2.5mm~4mm
Weight: around 150KGS
Dimension: 500*900*1200mm
VIDEO:
Ask and Answer:
if the machine only cut the insulation or can also bend the insulations.
--- Yes, it can cut and also bend the insulations, the bend we call it edge folded,
What are the maximum and minimum width of the insulation?
--- Width of the insulation Min 10mm, Max 150mm
What is the thickness of the insulations?
What kind of material can bend and cut?
--- DMD,PMP and other Polyester film
Contact:emily@motor-machinery.com
Skype: motor.machinery
Mobile: +86-18067425780
Website: http://www.motor-machinery.com; http://www.coilswinding.com