CATEGORIES
Latest news
Contact us
ADD: No.4 Building , No.1500, Kongjiang Road,Yangpu District,200093,Shanghai,China Skype: motor.machinery
TEL: 86-21-58992293
FAX: 86-21-58992292
E-mail: sales@motor-machinery.com

> Products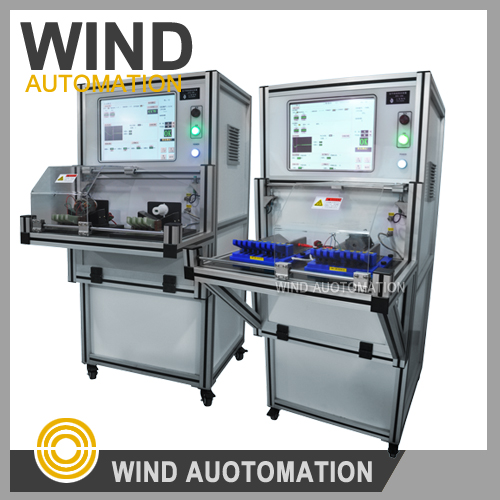 Stator testing panel WIND-DTS-300
Product description: Suitable for testing excited motor stator, test cooling state resistance test,dielectric strength,Insulation Resistance, turn to turn Insulation,polarity test
PRODUCT INTRODUCTION
AC motor DC motor Stator testing machine WIND-DTS-300 Advantage:
Double position test in turn, the shortest test time can be up to 6 s/pc.
Testing item and accuracy:
1. Cooling state resistance test
Test method :Four points,with auto correctting ambient temperature function, the standard temperature can be set, wire connection according to buyer's requirement.
Test range: 1Ω--200Ω
Test tolerance: ±1%
2. Dielectric strength
Pass high voltage between core and winding
Test condition: AC 0-3000V adjustable.
Voltage tolerance : ±3%
current leakage range : 0.1-10mA
Current tolerance: ±1%
Time: 1sec~60sec(software setting)
3. Insulation Resistance
Test condition: DC 500V
Range: 0MΩ~2000MΩ
Tolerance: 10MΩ~200MΩ ±3%, Above 200 MΩ, the tolerance is negligible
4. Turn to Turn Insulation
Test condition: Taking a qualified stator as the standard sample, and save its test curve and data in computer. Then comparing the values of standard one and the to-be-tested stator, calculating the area and the relative error value of frequency , and then figure out the upper limit value of relative error value.
Pulse voltage peak value: 500V-3000V
Pulse peak value tolerance: ±5%
Criterion value setting: conclude as per the percentage of △S and △f, setting range is 1%-99%
5. Polarity test
Test condition: Electrify the motor stator DC current, judge the polarity direction of the stator by Hall element.
Criterion value setting: Alert when the direction of polarity is different from the setting.
HS Code:9030390000
Testing Machine Demo Video:


The stator tester is applied to test cooling state resistance,dielectric strength,insulation resistance,turn to turn insulation,polarity with LCD display all technical data which obtained by industrial control computer.
Two work station Detect/ Loading unloading the testing stator by safety mask Close/Open.Close safety mask will automatically turn to detect testing stator, check each test items one by one, then display testing result and alert by sound and light when parts rejected. The test time can be within 10 s/pc.
Configuration
1. Left and right two test station, provide 2 sets of fixture for stator
2. Aluminium alloy bracket
3. Item testing system
4. Control and switched system
5. Industrial control computer with P4 CPU and 19''LCD
Software configuration
1.Test program for each test item
2.Threshold value setting and changeing program
3. Item set and screen program
4. Turn to turn curve save and compare program
5. Data statistic analysis display program
6. Report diagram print program
7. Testing data retrieve program
Others need user provide
1. Stator sample each 2pcs
2. Three phase 380V,five wire system power, well ground connection
Skype: motor.machinery
Mobile: +86-18067425780
Website: http://www.motor-machinery.com; http://www.statorwindingmachine.com