CATEGORIES
Latest news
Contact us
ADD: No.4 Building , No.1500, Kongjiang Road,Yangpu District,200093,Shanghai,China Skype: motor.machinery
TEL: 86-21-58992293
FAX: 86-21-58992292
E-mail: sales@motor-machinery.com

> DC motor stator machinery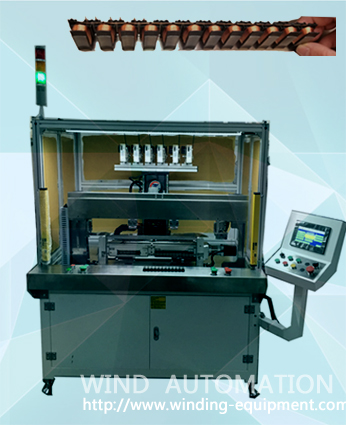 Straight Lamination 3phase BLDC Motor Winding Machine
4Axis Yaskawa Servo Device
8KW Power
600RPM Winding Speed
1/2/3/4 stations
Product description: BLDC Stator Straight Lamination Winding machine is a trend for motor manufacturers who want to produce high slot filling rate, small slot size, high performance electrical motors
PRODUCT INTRODUCTION
Straight Lamination 3phase BLDC Motor Winding Machine Wire Crimped Into Terminal WIND-ZR158-2
Winding Machine Application:
BLDC Stator Straight Lamination Winding machine is a trend for motor manufacturers who want to produce high slot filling rate, small slot size, high performance electrical motors
Winding Machine Technical Data:
Wire diameter: 0.1mm to 0.8mm (AWG38 to AWG20)
Stator total length: Max 400mm
Stator stack height: Max 100mm
Slots no.: No limited
Turns no.: No limited
Winding speed: 600RPM (According to wire diameter size, stack height)
Airsource: 0.4~0.7MPa
Machine power: 8KW
3phase AC 380V 50~60Hz
Weight: about 900KGS
Dimension: 1100(W)*800(D)*2000(H)mm
Winding Machine WIND-ZR158 Competitive Advantages:
1. Japan design, Made in China
2. Two working station can wind 24SWG, 68 turns, 9 poles teeth stator in 1.5mintues (1.5minutes/2pcs)
3. Each segment winding coils displament neat and tidy,
Perfect winding layer not only have neat and tidy appearance, also good quality with small resistance
4. Two station or three stations are with automatic loading device
Cycle time of winding 1pc Stator Winding (winding requirements as below)
1.5minutes/2pcs (2 working station), 1.5 minutes/3pcs(3working stations)
For a stator each pole requires 68 turns of wire winding.
Winding will start from 1st terminal and wire will crimped into terminals and
then 1st Pole will be winded 68 turns of coil then the wire will go from back side of part to 4th pole ,
here again 68 turns clockwise
and wire will move from back to 7th pole and again winding
68 turns of coil winding and then crimping small terminal.
Straight Lamination Stack Winding Machine Feature:
1. Through the winding needle up and down movement and the rotation of the lamination stack iron core,
any track can be wound. Therefore, by changing the product winding program, corresponding windings
with different core stack thickness and different turns number of core poles can be setted easily
2. Human-machine dialogue can make sure the operation mode and maintenance easier
3. Spiral wire turns no. cripmed into terminal can be arbitrarily setted and stop at any location 360°,
As a result, It is simple and convenient to place bridge wire and shorten the overall cycle time.
Improve production efficiency
4. During winding, the number of coils in each layer can be flexibly changed to realize different
of product types layer
5. Since the copper wire grooving operation is performed with high-performance Yaskawa control system
and Yaskawa servo motor, the stability of the position of the enameled wire in the slot can be ensured
and therefore shorten the winding time
6. Manual or automatic robot hand feeding methods can be selected.
Automatic loading and unloading can realize complete automated production of production lines,
saving labor costs for motor manufacturer customers in mass production.
7. All units of the winding equipment have been fully standardized, and the toolings are easy to replace
The overall winding machine maintenance is more simple and convenient.
Example There are 9 poles/teeth.
Winding series :
1st pole-4th pole-7th pole
2nd pole-5th pole-8th pole
3rdpole-6th pole-9th pole
Wire : 24SWG DUAL COAT
Winding Machine Main Configuration:
| | |
| --- | --- |
| Control system | Japan Yaskawa |
| Servo system | Japan Yaskawa |
| Low-voltage electrical components | Schneider |
| Touch Screen | Weinview |
| Sensor/Limit Switch | Omron |
| Screw guide | Hiwin |
| Pneumatic unit | Airtac |
| Ball Bearing | NSK |
| Synchronization belt (Timing belt) | Continental |
In BLDC Winding machine, there are two option, one is scew rod, the other is belt.
The usage of the two device is different: The application of the screw is to convert the rotary motion through the nut to the linear motion. The application of the belt drive is to transfer rotary motion, change the rotation direction, and change the speed ratio.
Screw drive, good steel, can transmit large torque, accurate position, easy to produce impact vibration when frequent commutation.
Belt transmission, smooth transmission, elimination of vibration, easy to throw away under heavy load.
One, ball screw
Ball screw is an ideal product that converts rotary motion into linear motion or converts linear motion into rotary motion.
Ball screw consists of screw, nut and ball. Its function is to convert rotational motion into linear motion, which is the further extension and development of ball screws. The significance of this development is to change the bearing from rolling motion to sliding motion. Due to the small frictional resistance, ball screws are widely used in various industrial equipment and precision instruments.
Ball screw is the most commonly used transmission element in power tools and precision machinery. Its main function is to convert rotational motion into linear motion, or to convert torque into axial reversal force, simultaneously with high precision, reversibility and high The characteristics of efficiency.
Ball screw features:
1, no backlash, high rigidity
Ball screw can be added to the pressure, because the pre-pressure can make the axial clearance to a negative value, and then get a higher rigidity (ball screw through the ball to give pressure, in the actual use for mechanical devices, etc., due to the ball The repulsive force can increase the rigidity of the wire portion).
2, high-speed feed may
The ball screw can achieve high-speed feed (motion) due to its high efficiency of movement and low heat generation.
Accuracy Tolerance: P5 .P7 --
The world's leading manufacturer of ball screws:
Japan THK ball screw, Taiwan Geng Teng GTEN ball screw, Taiwan ABBA ball screw, South Korea SBC ball screw, Japan NSK ball screw
3, high-precision guarantee
The ball screw pair is produced consistently with the world's highest level of machinery and equipment manufactured in Japan. In particular, the temperature and humidity are strictly controlled in the factory environment for grinding, assembling, and inspecting various processes, due to perfect quality management. The system ensures full accuracy.
4. Compared with the sliding screw, the driving torque is 1/3
Since there are many rolling balls between the screw shaft of the ball screw pair and the nut, the higher the movement efficiency can be obtained. Compared with the previous sliding screw pair, the driving torque reaches 1/3 or less, that is, the power required to achieve the same movement result is 1/3 of that of the rolling screw pair. It is helpful to save electricity.
5, micro feed may
Since the ball screw pair uses the ball motion, the starting torque is very small, and no creeping phenomenon such as sliding motion occurs, and accurate micro-feeding can be guaranteed.
Second, the timing belt
The timing belt is an endless belt with steel wire rope or glass fiber as the strong layer and covered with polyurethane (polyurethane timing belt) or neoprene rubber (rubber timing belt). The inner circumference of the belt is made into a tooth shape and meshes with the toothed belt pulley.
When the timing belt is driven, the transmission ratio is accurate, the force on the shaft is small, the structure is compact, the oil resistance, the wear resistance is good, the anti-aging performance is good, the general use temperature is -20°C-80°C, v<50m/s, P<300kw, i<10, also for low speed drives for drives that require synchronization.
The timing belt drive is composed of an annular belt with an evenly spaced tooth profile on the inner peripheral surface and a wheel with a corresponding anastomosis. It combines the advantages of belt drives, chain drives and gear drives. When rotating, power is transmitted by meshing the teeth with the tooth grooves of the wheel. Synchronous belt drive has an accurate transmission ratio, no slip, can obtain a constant speed ratio, smooth transmission, vibration absorption, low noise, transmission ratio range, generally up to 1:10. Permissible line speeds up to 50M/S, delivering power from a few watts to hundreds of kilowatts. High transmission efficiency, generally up to 98%, compact structure, suitable for multi-axis transmission, no lubrication, no pollution, so it can work in places that are not allowed to have pollution and work environment is harsh. This product is widely used in textile, machine tools, tobacco, communications cables, light industry, chemical industry, metallurgy, instrumentation equipment, food, mining, petroleum, automotive and other industries in various types of mechanical transmission.
Characteristics of synchronous belt
(1) Accurate transmission, no sliding during operation, and constant transmission ratio;
(2) Smooth transmission, with buffer, vibration reduction, low noise;
(3) High transmission efficiency, up to 0.98, significant energy saving effect;
(4) Easy maintenance, no lubrication, low maintenance cost;
(5) The speed ratio range is large, generally up to 10, the line speed can reach 50m/s, with a large power transmission range, up to several watts to several hundred kilowatts;
(6) It can be used for long-distance transmission with a center distance of up to 10m.
Third, different points
1. The application of the screw is to convert the rotary motion into a linear motion through the nut. The application of synchronous belt transmission is to transfer rotary motion, change the rotation direction, and change the speed ratio. The bar drive, with good steel, can transmit large torque, accurate position, and easy to produce impact vibration when frequent commutation. Because of the no-clearance between ball screw and nut, the accuracy of linear motion is high, especially in the frequent commutation without clearance compensation. The friction between the ball screw and the nut is very small and it is very easy to rotate. Belt transmission, smooth transmission, elimination of vibration, easy to throw away under heavy load.
2. Because of no gap between the ball screw and the female screw, the precision is high when the linear movement, especially when the frequent commutation does not need the gap compensation. The friction between the ball screw and the nut is very small and it is very easy to rotate. The principle of the ball screw wire is to convert rotational motion into linear motion and convert torque into axial reversal force. It has characteristics such as high precision, reversibility and high efficiency, which is a leap for the linear motion series.
3, the belt drive has a simple structure, smooth transmission, low cost and buffer vibration absorption characteristics; ball screw and motor must be connected to the middle of the coupling to achieve flexible connection. The timing belt can be directly connected to the motor output shaft with a synchronous wheel.
Please click below picture to view video

Contact:Shanghai Wind Automation Equipment Co.,Ltd
http://www.statorwindingmachine.com
Email: emily@motor-machinery.com
Skype: motor.machinery
Mobile: +86-17721374887